You are here
Life Science & Healthcare
Startup:
Offers products for testing water contamination using catalytic DNA technologies.
Specializes in the development and application of prophylactic measures against viral diseaes of swine.
Providing recombinant proteins based on Nanodisc technology that support membrane protein drug development. Founded by Stephen Sligar from the College of Liberal Arts & Sciences. 
Specializes in the development of novel catalysts and reagants for chemical synthesis.
Develops imaging technology that helps clinicians see tissue at the microscopic level and provide crucial histiological insight when it's needed most.

Detects drug molecules, contaminates, and adulterants using personal glucose meters.
Developed technology enabling the identification of lung cancer from breath.
Orbis aims to change the way people think about controlling particles — size, orphology, and porosity.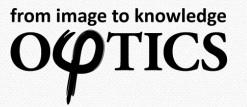 Phi Optics develops optical imaging systems through its Quantitative Phase Imaging platform.

Developing a handheld imagining tool for physicians to quickly and accurately diagnose middle ear infections.
Developing faster and more precise diagnostic tools such as LifeCounts, the rst complete blood count handheld diagnostic device. Co-founded by Rashid Bashir and Bobby Reddy from the College of Engineering. The company is located in the EnterpriseWorks incubator. 

Developing new therapies through an approach that harnesses the complex chemicals of life by reconfiguring natural substances into best-in-class medicines.
Allows poor array detectors, either stand-alone digital cameras or cameras in tablet computers or cell phones, to measure signals over a wide range of intensities, thus enabling anyone to measure water purity, soil chemistry, and even some medical diagnostics.
A drug development company that focuses on targeting molecular defects in specific cancer cells to create personalized oncology therapeutics for unmet or underserved cancer markets. 
Williamsfield Seed Company
Offers farming industry wholesale varieties of conventional soybeans and promotes Illinois non-GMO soybean varieties.